A familiar refrain: I'm working harder on nutrition and fitness.
I'm never going to be a perfect eater. I snack and snack and snack, but if I rein that in enough, I can lose weight. It's happened before. (I know. I was there.)
But if I don't rein that in at all, no amount of gym work can fix me. I'll be a mess. And lately, I've been that mess again. It happens, don't get me wrong, but I'm sick of it.
And so, it begins again. The struggle, the battle, the fight to a healthier, prouder weight.
Tell 'em, Rock. Tell 'em what it takes: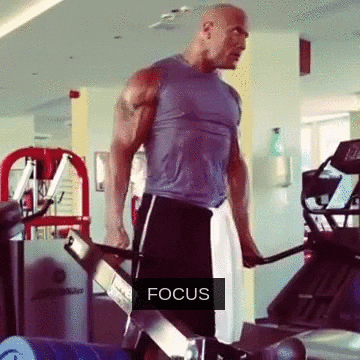 See? All the time, focus. Focus on what you want to achieve and how you will do it. Let nothing — nothing — stand in your way. Fight. Fight. Fight.
More time in the gym, better calorie work, overall better nutrition. Quick walks at lunch. Salads, no fries; lean meats, avoid the breads. Vegetables everywhere. Whatever that end result looks like, make progress. Win the day. Absorb losses but don't fall apart — pick yourself back up.
I don't need perfect days. I just need better than lately.
Pardon my French, but damn it, I know what I'm capable of. It's time to burn it down again.